Moray Cottages are set in beautiful open countryside,
making it the perfect place for a safe and 'away from it all' holiday.
We are very much looking forward to welcoming guests to enjoy the peace, tranquility & isolation.
It is important to us to provide a safe environment for your stay.
We are a member of the Association of Scottish Self Caterers
who have collaborated with other self-catering associations & the Scottish Government
to develop a strict cleaning protocol for self-catering.
We are also following the 'Good To Go' initiative,
developed by Visit England in partnership with Visit Scotland,
which is designed to ensure high standards of hygiene in tourism establishments.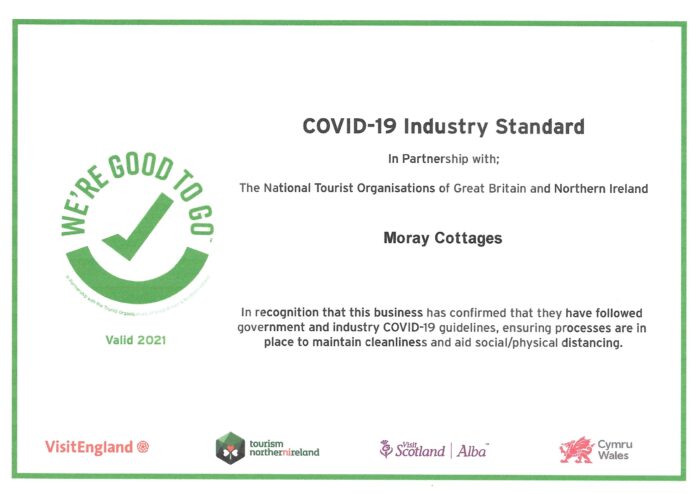 Risk Assessment
In line with agreed guideline we have conducted a detailed Risk Assessment to ensure the safety of our guest & ourselves
We will continually review our Risk Assessment to take into account any changes in guidelines or legislation
A copy of our Risk Assessment is available on request
Cleaning Protocols
We have completed training in the new Covid-19 Holiday Let Cleaning Protocols
Where appropriate we are using the recommended virucidal disinfectants that comply with guidelines
We are following a strict cleaning checklist & protocols
We provide appropriate cleaning materials and disinfectant for use during your stay.
Arrival & Departure
You will be able to enjoy a safe check-in & check-out process with no direct contact with us,
however, if you need anything during your stay we are only a phone call away.
We do like to welcome all our guests personally
to ensure that you are comfortable & enjoying your stay. There is plenty of space
so we will be able to meet & speak with you from a safe distance.
We will provide simple instructions for you to follow when you depart to help us prepare the cottage for the next guests.
If you test positive or develop symptoms during your stay
If you develop symptoms of Covid-19 during your stay you must inform us immediately.
If you are well enough to travel you should return home & self-isolate
in accordance with current Government Guidelines.